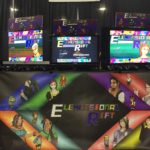 This last weekend was Dreamhack in Atlanta and NR, utd. was certain to bring Elemensional Rift to such an important convention to end the year very strong.  Dreamhack is one of the newer conventions to North America but has been around for a couple decades in Europe.  Dreamhack started off as a convention supporting LAN gameplay but has since evolved to focus on the eSports side of gaming.  This was their second time being in Atlanta and Elemensional Rift returned once again.
The first day was a big start and NR, utd. came in swinging.  NR, utd. presented Elemensional Rift on the Indie Playground stage for the attendees to check out.  The scene was the Project Director and the Lead QA teaming up against any team of challengers from the audience.  In addition, the stage was accompanied by a guest shoutcaster known as Rac the Kitty!  The results were not just fun on the line but also cash prizes for any on comers who can manage to beat the teamwork.  Out of all teams, only one team managed to achieve victory against the development team.  This team represented the local community well with a member of Finite Reflections teaming up with a member from New 90's Games studio (both studios that live locally to the greater Atlanta area).  No other team could match the teamwork put up on stage.
The second day was an extremely busy, packed day.  There was a consistent flow of traffic down the aisle that NR, utd. was showing Elemensional Rift.  There were many people playing multiple rounds together.  It was difficult to get into a position to take quality photos without disturbing the players while they are playing.  Even with all of the noise going on, the excitement and unexpected chaos that Elemensional Rift brings to the table managed to continue to draw people in from a solid distance.
The third and final day had a few people coming to prepare for the Elemensional Rift tournament.  When tournament time came, some people were pumped and ready to kick some butt.  There were quite a few surprises in the mix.  Not only was this tournament the first time that Crispy B. did not make it to the finals, but the one, lone Overlord Otagaz player came out of nowhere to show the might of Crystasia as he crushed his opponents into dust!  As the first player to wield Otagaz in a tournament, the record is currently set for Otagaz to currently be undefeated.  How long will it last that way?  Only time will tell.